Many of the Mexican casinos have remained closed during the health alarm situation in which we are still immersed. These measures were taken to avoid contagion between some users and others.
Now, when it seems that the Government of the Republic is already allowing the reopening of casinos , something that depends on the epidemiological traffic light , it is necessary to follow some guidelines that guarantee our safety.
Although these casino rooms must follow a strict sanitary protocol, it is always interesting to know other aspects that can increase our personal safety.
Here, we are going to show you some health recommendations when visiting your favorite casino .
ALWAYS WEAR A MASK
In addition to being a mandatory measure on the part of casinos, we believe that it is necessary that you accept and take the mask as an important protection measure .
It is one of the main barriers to avoid contagion, so its use is absolutely necessary.
MAKE SURE YOU PLAY ON SANITIZED MACHINES
Before starting to play a slot machine , try to make sure that the game has been sanitized . You will usually see a sign indicating this.
In the case of not finding it, contact any of the casino workers and tell them that you are processing the sanitation. Once done, you can play with total peace of mind.
APPLY ANTIBACTERIAL GEL OR WASH YOUR HANDS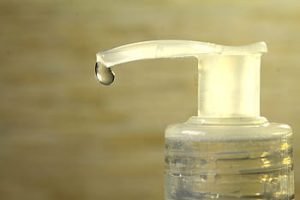 Antibacterial gel is essential to reduce the possibility of contagion in the casino
Using the antibacterial gel or washing your hands frequently is another of the recommendations that we make. In addition, it is directly related to the previous point.
It is highly recommended that, even if the gaming machines have been sanitized, you use the antibacterial gel on your hands. This is because you will be in contact with coins and tokens that may have been in the hands of other users.
Using said gel would eliminate any infectious residue that may have remained on your hands due to contact with said coins or tokens.
KEEP YOUR DISTANCE FROM OTHER USERS
Don't be in a rush to sit down in front of a slot machine or casino gaming table . Look around you where the largest number of users accumulate and try to avoid those areas.
Remember that keeping your distance from other people is another relevant physical measure to avoid contagion. Therefore, the further you stay away from other players, the better .
DON'T STAY IN THE CASINO FOR A LONG TIME
While it can be disappointing to have to leave your casino shortly after entering, our recommendation is that you do. Our advice is that you do not stay more than an hour at a time inside the enclosure .
It is more advisable to leave for some time and re-enter than to stay for a long period of time in a closed room. This is so because the possibility of being infected is high, even taking the aforementioned measures.